See the 12 Winning Entries And Order Your Calendar!

Last year the Lions Club of Howick produced and marketed a 2021 Calendar with photographs taken around the Auckland East area.
The calendar achieved very good sales so it was decided this year to continue printing local area calendars annually. All proceeds go back into the local community and supporting suitable applicants of student age groups to Outward Bound camps.
For the 2022 calendar and planner it was decided to invite Year 9-13 students from local Auckland east colleges to compete in a photo competition with the 12 winning entries being published in next year's calendar, one for each month.
The first prize is a Canon EOS 2000 Mark II camera sponsored by Canon NZ. Second and third prizes are from Monterey Cinemas, Warehouse Stationery, Paradice Ice Skating and Laser Tag.
The competition opened closes on August 31. Details and entry forms are on the website www.howicklions.org.nz and the submitted hard copy entry images will be collected from the various schools immediately after the closing date.
There will be an exhibition of the entries at the Fencible Lounge, Howick, on October 9 from 11am – 3pm and the 2022 Calendars with the winning students' photographs will be available.
Photo Competition Update (4th October 2021)
We were hopeful that Covid 19 lockdown levels would go down enough to continue with our photo exhibition on the 9th October, however with the recent announcement from the government we are unable to proceed with the exhibition. We appreciate that this is very disappointing.
On a positive note, the winners have been selected and we will be announcing the winners via our website this Saturday. The top 3 prize winners along with the 12 photos that are featuring into our 2022 calendar will be announced on our website. This announcement will be live at approximately midday on the 9th of October. Click here to see the top 12 entries.
We will hold a prizegiving for the winners as soon as Covid restrictions allow us to do so. We would like to take that opportunity to take a few photos of own to congratulate the winners and thank our sponsors.
Lastly, we would like to thank all of you for entering our competition, the judges along with us (Howick Lions) have been very impressed with the high quality of photography, and we have already started planning next year's event. Fingers crossed that Covid will not impact on this project next year.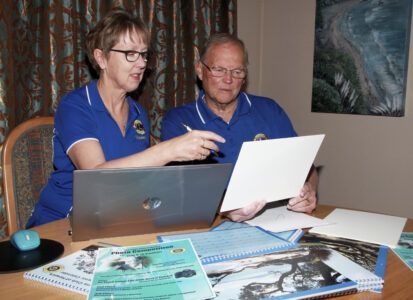 Howick Lions Calendar Organiser, Jan Tait and Lion Grant
Taylor cataloguing entry applications and images
as they arrive.