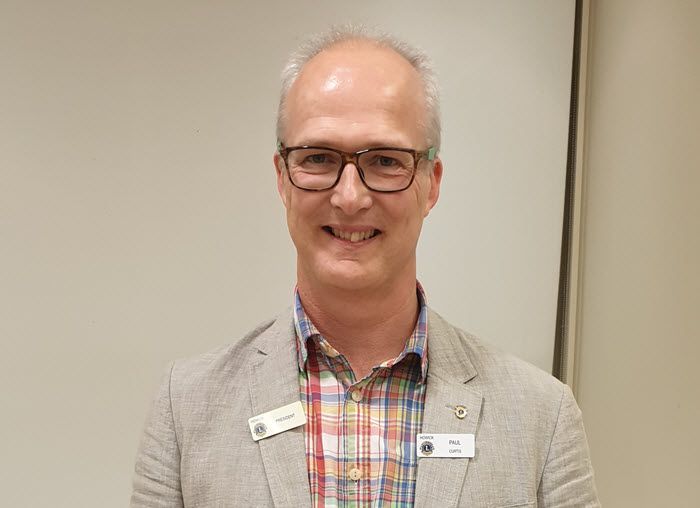 Fellow Lions
Thank you to everyone who attended our joint club August Dinner Meeting with Pakuranga-Panmure and Bucklands Beach Lions Clubs. It was a brilliant atmosphere with over 50 people in the room all mixing and getting to know each other. It was also fabulous to meet the President, Vice President and Secretary of Howick Leos Club; I was so pleased that that were able to attend our meeting with their lead teacher, Neera Sundrum. Our guest speaker from the Motuihe Island Trust was also superb and motivated us to try and organise a tree planting day on the island, perhaps with our local clubs. Watch this space. All in all, it was a fabulous evening; not least because it was also the official launch party for our Beeswax Food Wraps fundraiser. In total, we sold 10 wraps on the night, which was a great start.
Our website is now also geared up to take order for the beeswax wraps online. If any members want to order a wrap, just go to our website to place the order. If you're happy to wait until the next meeting to collect your wrap, then we can waive the $4 shipping fee.
I was also delighted to attend, with Lion Ian Packwood, a performance of 'Once on Chunuk Bair' at Howick College as guests of the College. It was a very well acted and moving performance and helped to strengthen our ties with the school.
We have a busy month ahead of us with fund raising chip cooking at Shelly Park Primary School on the 22nd September and Owairoa Primary School on the 28th September. These school galas are hard work, but good fun - and an important source of income for our Community Account. Please make every effort to help out if you're able - just send send an email to Tony Blair. We also have a sausage sizzle at Botany Town Centre on the 28th September, so we're going to be spread thinly. Which also reminds me say that Lion Dave Downie has said (quite rightly) that he's had enough and it's time for someone else to manage the logistics of the sausage sizzles. Thank you Dave for all your hard work over the years making sure we're well stocked with sausages, bread, onions, sauce and gas bottles! Thank you also to Lion Judith for stepping up to help.
Of course, we also have the world premier (well, in Howick anyway) of Downton Abbey the movie on the 12th September at Monterey Cinema. Please let Lions Jean Wigzell or Tony Blair know if you'll be attending if you haven't done so already. This is purely a social evening, but will hopefully put a bit of cash into our Admin Account as well.
Finally, we have another wonderful guest speaker lined up for our Dinner Meeting this month - Jim Hainey - motivational speaker. Jim has been a competitive swimmer, professional swimming coach, professional lifeguard and first responder on Australia's Eastern Beaches. He founded the largest recruitment company in New Zealand and has worked as a motivator and mental coach to a number of sporting bodies. We are very lucky to get him (thank you Lion Jean) and I'm very much looking forward to hearing what he has to say.
Yours in Lions
Lion Paul Curtis
We Serve