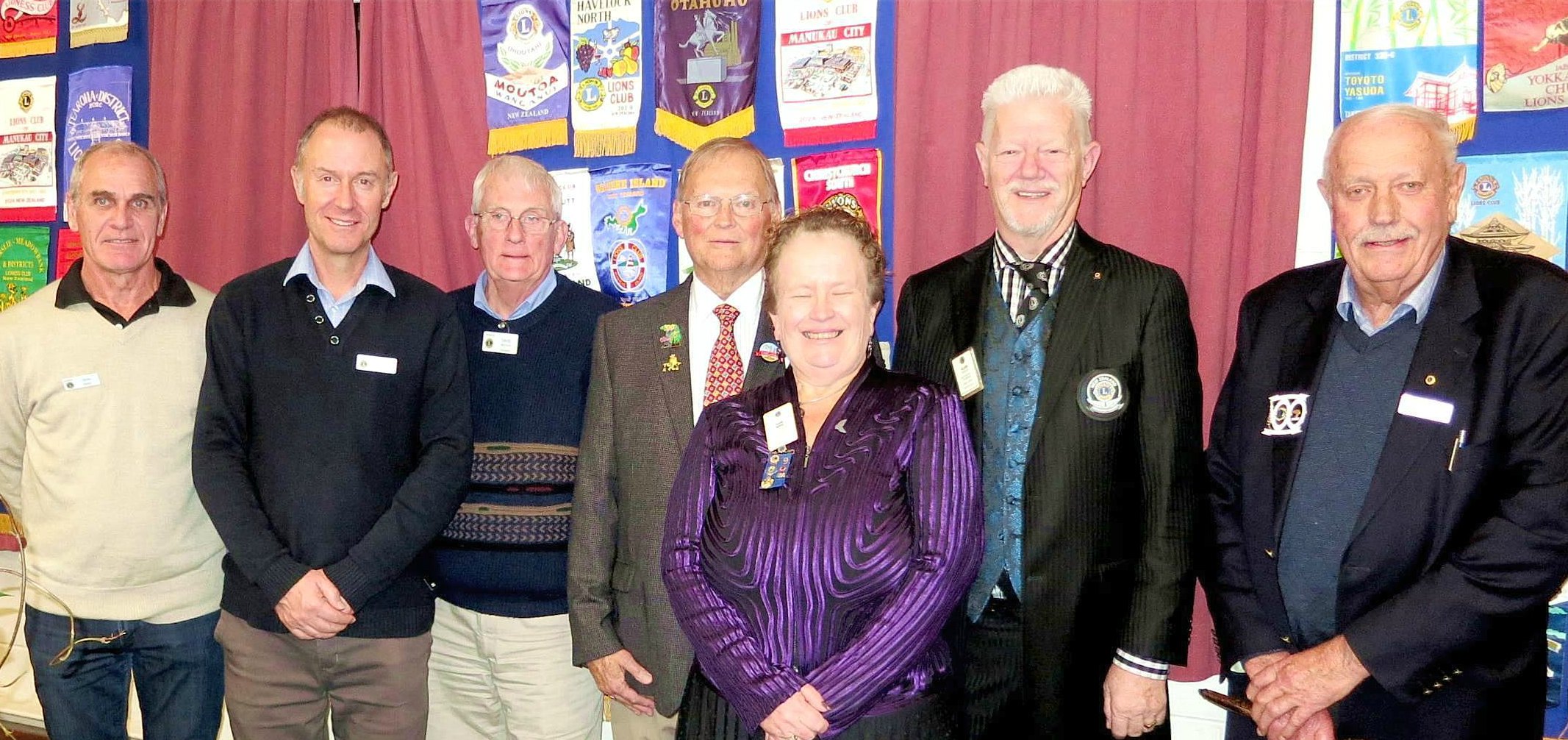 L - R: Lions Dean Henney, Derek Miles & David Westwick, Immediate Past President Grant Taylor, Past District Governor Deidre Bridge, Past District Governor Alan Sheath, Incoming President Colin Salt
ACCEPTANCE SPEECH GIVEN BY INCOMING PRESIDENT COLIN SALT

Three years ago I was asked if I would put my name forward to be the 2nd Vice-President. At the time I thought that would be a pretty cushy position as it was a long way from being President and I would be able to find a good excuse not to become President in the next intervening years.
It is with horror that I now realise that no excuse presented itself and now I find myself standing trembling in front of you. I have had four months experience as an interim President in my former Club when the President went on World trip and I was the unfortunate VP. But this is different by far.
Where to begin?
It is actually quite an honour to be accepting the position of President of the Howick Lions Club. I will try to be a good President for you and hope to be remembered for leading the Club forward without too many disasters on my part. Hopefully I will not be impeached in the first few months.
Firstly I would like to thank our Visitors and also Past District Governor Deirdre Bridge who conducted the Change of Officers ceremony tonight. It was a very moving time as the new Officers were sworn in. As I stood there I thought well at least I am not alone.
For my first Official Act I would like Retiring President, Grant, to come forward as I would like to make a Presentation to him on behalf of our Club.
Presentation to Grant

I would like to thank Grant for his term as President. Although running his own business he has devoted much time to the Club. He has initiated new ideas and worked tirelessly keeping our Club operating, as a proud Club, achieving its goals of helping our community. He has been approachable at all times and listens to all ideas relating to the Club from members. I feel he has been a good President steering the Club forward. Once again thanks Grant for a job well done. I am sure that in the future you will probably lead the Club again.
I would now like to discuss the future of our Club over the coming year as I see it.
The theme for the year is "Strengthen Our Future"
You will have all received the Tatler which lists the various Committees and the allocation of Members to those Committees. I have discussed with most of you where you all fit in this structure and obviously it is very similar to the last year. Also there is listed under Project Managers or Lead Lions various jobs which those Members have done in the past or have experience organizing those events. In some cases those Project people will have help as needed from all other Members.

I would like more input this year exploring new Projects so that the Club increases its revenue considerably. This will enable us to fund more Community assistance with accent on our area. To be able to Fund more youth activities and to assist young people asking for help in projects that will assist in their learning and life experiences. So to this goal one of the Committees is also charged with investigating new ways of generating revenue. One way is investigating what other Clubs projects are and finding out if feasible in our area. We have brilliantly secretly placed an internal mole in the form of new Zone Chair Neil, who can get inside info on what other Clubs are doing in Fundraising – what works and what doesn't.
Also I am looking at approaching various businesses and Corporates for Sponsorship of Projects as we have a big pool around us. Lion Paul has some ideas on the way to approach this so we might make up a Team to explore this. I would want other members to help the Committee with suggestions and one Business meeting we could perhaps allocate 20 minutes to having a round table talk among those present, mining for ideas.
Membership
We need to keep the Club healthy by attracting new members. In all age groups from young to older. We all agree that we need younger members but also the Club needs our older members just as much with all their experience which is invaluable. In the last year we have initiated new areas for attracting new members. Examples are Facebook, Neighbourly, our new upgraded modernized Website that went Live last week, a Notebook sitting on a table at BBQ's and Events inviting interested people to type in their name and email address which we follow up immediately.
In other words, our Club is using technology and the internet in a drive for new members. To keep the Club at a reasonable size so we can serve our Community we need an ongoing, healthy recruitment programme. With back up for mentoring new Members to make their integration into the Club more enjoyable. Unfortunately, we can lose some Members through the year for various reasons which are quite normal. Our prime goal is to have a pool of ACTIVE members to call on for servicing our various projects so that we can distribute the workload more evenly among members. And on big Projects like the Festival we have enough people to run the event.
Website
We have a new, up to the minute Website, thanks to Lion Paul, who's Company has revamped our old one. It is exciting, full of life, extremely modern, fast, and graphically brilliant. It is attractive to an outside viewer and gives all the information about Lions and our Club quickly and efficiently. People interested in joining the Club have all the material needed on the site.
For Howick Lions Club Members the website has a confidential secure section hidden from the public's view.
The Members Area. In this section is a little Pandora's Box of goodies. Such as the Members List, Minutes, Financial, Email section where you can send an email to all members quickly, Alan's Process Manual, a continually updating Calendar of our events /projects /social /Meetings – plus many more useful info such as help to new Members etc. This a work in progress. All Members will have their own log in and password which is of course confidential to that Member. Suggestions gratefully received for any ideas to put in this section. Your password will be emailed to you this evening.

Survey
Tonight all Members will be emailed details for a Club Survey questionnaire. The idea of this Survey is to find out from individual Club Members thoughts on:
How the Club is being run.
How you feel the Club should perhaps be run in the future.
Things we are doing right.
Things we are doing wrong.
The running of Committees.
How we run Dinner, Business, Board Meetings – the good and maybe not so good.
What you are not happy about our Club, pet dislikes etc.
Operational such as should all committee members discuss their own agenda before a Business meeting thereby speeding up meetings.
Could all Members please fill out this Survey? You will find there will be a repeat of some of the questions but please note on those repeated questions the category heading is different so they actually have a different meaning. The Survey is basically a Lions International Survey for Clubs to use but with extra questions added specific tor New Zealand and our Club. Designed to give Members a strong say in the running of our Club.
The Survey will go to Lion Paul who will then formulate the results. These Surveys are confidential and I would ask that every member completes their Survey within 14 days. The Results will be presented to the Board and then to Members. No names will be mentioned.
This is your Club and we need to make sure that you are happy the way it is operating. There is an area also for any ideas you think will advance the Club. This is a great time to put any ideas in writing. Also there is another area to put anything that displeases you. These can then be addressed before they become truly annoying to you.
The main goal of the Survey is for your benefit to ensure we have a Club that you enjoy and want to belong to. Thanks to Lion Paul for all the work (and that's a lot of work) he has put into making the database for us. Paul will email everyone tonight with details to access the Survey. You can fill out the answers on line or print out the Survey and fill in by hand. Once again please get your answers in to Paul within two weeks.
Filling in the Survey was going to put you into a draw for a trip for two to Fiji but Treasurer David put a stop to that. So maybe a trip to Waiheke on a Gold Card will make him far happier. As long as it is not his.
ALWAYS AVAILABLE

I will always available if any Members want to contact me about any thoughts or enquiries you may have throughout the year. I will endeavour to be a good President for you trying to make the Club more strong and exciting to belong to. I will no doubt be seeking advice from some of you as the months into my Presidential term advance and will try use this advice to move the Club forward.
I am looking forward to being your President and it is a great honour to be elected. I feel this is a very strong Club who have achieved much over the years with a proud history and has a great team of people presently involved in the Club. I think it is marvellous how Members partners become involved in Club Projects and support totally the work our Club does for the community. Without their terrific support it would be impossible for the Club to continue and I unreservedly thank you all so much.
I wish once again to thank President Grant for his leadership over the past year. Grant will still be totally involved continuing his work on various Projects so I sure hope he does not think he can put his feet up and start relaxing. That ain't happening. Head Office at home will make sure he stays on track.
I know I have a strong team. Members with much experience in Lions and Members with a good knowledge of business acumen which the Club can call upon.
So let's look forward to a year of new ideas exploration to help our Community, but not forgetting to have a close knit Club bonded together and working together. A growing Club that supports its Members and their partners. A Club that also enjoys its social side, as networking at our fun events helps make a closer bond between its Members. A Club that makes its Members proud to belong to.
Thank you.
Lion Colin Salt
Incoming President 2017/2018